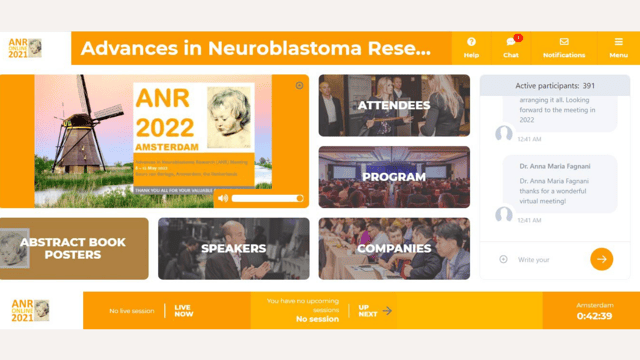 ANR (Advances in Neuroblastoma Research) Webinars
Due to the COVID-19 pandemic the ANR (Advances in Neuroblastoma Research) congress planned in May 2020 was postponed to January 2021. No physical meeting of five days in the Beurs van Berlage, Amsterdam. But a virtual congress of 3,5 days on the platform 'Let's Get Digital'
Using Let's Get Digital, delegates get a real live congress experience at home. With features as a real check-in, a lobby with hosts, networking facilities and a virtual expo. The perfect platform for the ANR Webinars with more than 850 users, 80 presentations (plenary + parallel), 3 sponsored symposia and 488 abstracts!
The delegates came from more than 75 countries all over the world and for that reasons we have organized the meeting on different times, taking into account the different time zones. First time still up and running after midnight (for the scientific program this time, not for the diner/party as we are used to 🙂 )
Looking forward to meet you in Amsterdam for the next Advanced in Neuroblastoma Research (ANR meeting) on 8-12 May 2022!