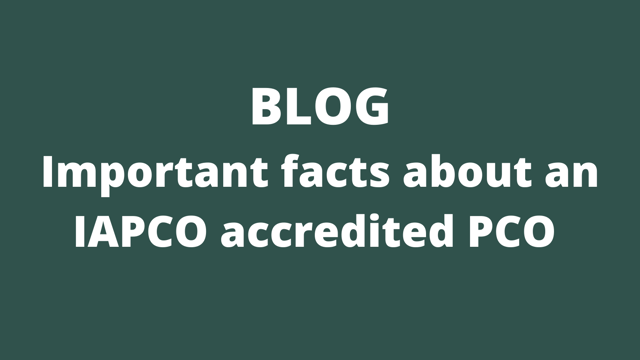 Congress Care: more then ten years IAPCO member!
How to find the PCO to organize your international meeting? Where do you start?
If organizing the meeting by your own is no option, search for a reliable PCO to outsource all logistics. IAPCO accredited PCO's are always a good choice! In this blog, you will read more about IAPCO and the benefits of working with them.

What is it?
IAPCO is the international accreditation member-driven association for Professional Congress Organisers around the world. Its goal is to raise quality standards within the meetings industry. IAPCO members are subject to annual quality checks to keep their accreditation.
Become IAPCO member
IAPCO is a very exclusive group of Professional Congress Organisers who are considered to be the best in the business. It's not easy to become IAPCO member, each member has had to undergo strict entry criteria:
Proof of organisation of 10 international meetings, (5 over 400 participants).
References received from past clients.
Site inspection of a selected international congress.
Successful interviews by peer review of international client, local organising committee, delegates and exhibitors of a selected international congress.
Inspection of the office and audit of procedures.
The logo on which an IAPCO member can be recognized
Stay IAPCO member
Once accredited an IAPCO PCO has to maintain their membership by participating in an annual quality assessment including statutory returns, event quality check lists, client references and on-going education.

Benefits of working with an IAPCO accredited PCO


Few highlights:
Proven experience and expertise.
Relief from many of the everyday concerns and stresses involved in the organization.
State-of-the-art congress management software matching with your specific needs.
A more professional outcome of your meeting.

The team of Congress Care, participating as IAPCO certified PCO in the Eurpean Congress on Geriatric Medicine, 2014

Congress Care proud IAPCO member!
Since 2010, Congress Care is proud IAPCO member!
Besides our 25 years' experience, our IAPCO certification gives extra assurance that anyone looking to organize an (inter)national congress is in good hands with Congress Care.
On the IAPCO website your can find whitepapers to help you in the process of choosing the right PCO:
We are happy to advise on the organization of your next international congress! Feel free to contact us!